Nobody wants to think about what would happen if their partner or spouse died. Unfortunately, it is a possibility and the financial implications can be huge. Without proper insurance, the surviving spouse can struggle to meet mortgage repayments or pay off debts.
Most working parents recognise the importance of taking out life insurance. They understand the impact it would have on their family if their salary was no longer coming in.
What often gets overlooked is life insurance for stay-at-home parents. Because they don't have an income that contributes to the household bills, it is seen as unnecessary to pay for insurance. It can be a big mistake to think this way. Although a stay-at-home parent doesn't have a salary, their death would still put a strain on finances.
The most immediate cost would be the cost of their funeral arrangements. The surviving parent may also need time off from work and this won't always be available as paid leave. If the surviving parent is self-employed, it can be even more difficult to take time off and cover the bills.
The biggest cost is often childcare. If there is no longer a parent at home to look after the children, then the surviving parent may need to stop working or make alternative childcare arrangements.
Even if the children are of school age, they may still need dropping off and collecting from school. A working day tends to be longer than the average school day, so there needs to be childcare before and after school. Then there are the school holidays to think about.
Other costs could include having to eat out or pay for takeaways more frequently because there isn't someone to prepare the meals or do the shopping. There is no longer someone at home taking care of household tasks, so you may need to pay someone to take care of cleaning, washing and ironing.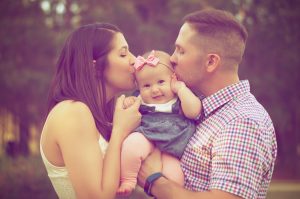 Plan for the worst, hope for the best
If you are a stay at home parent and you don't have life insurance, then you could be leaving your family at risk. Although it is unpleasant to think about, it's worth being prepared. Hopefully, your family will never need to make a claim but it's better to be on the safe side.
The level of cover you need will depend on how much protection you want. Think about how much would be needed to pay off the mortgage, pay your funeral costs and cover your partner for taking time off work. Consider the childcare costs and the costs of supporting children until they leave full-time education. You probably want a policy that will allow your family to live comfortably if you die.
You might also want to consider critical illness cover in case you are diagnosed with a serious illness or are hospitalised for an extended period.
Life assurance may be a more suitable option than life insurance depending on your individual circumstances. Assurance is viewed as an investment product, so you should speak to a financial adviser to find out if this option is right for you.
Need help?
At Rockwood Financial Solutions, we are dedicated to helping our clients plan for both the best and the worst. We can help you calculate the most appropriate amount of cover needed to provide for your family in the event of illness or death. Then we can make recommendations for the best funeral plans, life assurance, life insurance and critical illness cover.
Because we are completely independent, we aren't tied to a particular provider or product; we make recommendations that we truly believe are in your best interests.
If you'd like to find out more about how to protect yours and your family's financial future, then contact our friendly team today.
Nothing in this blog constitutes financial advice or recommendations, for more information please contact Rockwood Financial Solutions on 0330 332 2679.
Don't wait until it is too late. Speak to our friendly team and start planning for yours and your family's financial future now. Contact Rockwood today to find out more.
At Rockwood we're passionate about pensions and can help you understand what your options are. Whether you have one or several pensions we can review them for you and explain the advantages and disadvantages of consolidation. If you do decide to switch or consolidate we can help you chose the pension scheme that is right for you. This will be based on your circumstances now and the lifestyle you want to achieve in the future. All of our advice is completely impartial. If you'd like advice on existing pensions or setting up a new pension then we'd love to help. Contact us today to start making the most out of your pensions now.